Steel Tread Plate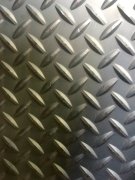 View our inventory below to find the steel tread plate you need, or use the filters at left to narrow your search. We also offer
aluminum tread plate
. Request a quote today, or
contact us
for more information.
Read more info about steel tread plate.

IMS offers steel deck plate in multiple thicknesses/gauges and a variety of pre-cut lengths and widths. We can also provide custom cut-to-size tread plate to match your exact specifications. Download our tread plate flyer to learn more.

Steel tread plate is used for a wide range of applications, from vehicle running boards to stairways to trailer floors. Also known as floor plate, checker plate or diamond plate steel, steel tread plate is durable and easy to clean. Highly resistant to chemicals, corrosion, and weathering, tread plate requires no special surface treatments and is all but maintenance-free.
Your #1 Source for Diamond Plate Steel
Industrial Metal Supply stocks ASTM A786-approved steel checker plate in a single to meet your unique needs. Our selection of diamond plate steel includes:
Mill Finish Steel Tread Plate: This diamond plate steel is ideal for structural applications that don't require bending or forming.
Features of Diamond Plate Steel
Slip resistant surface
Durable and weather resistant
Unique decorative appearance
Easy to clean
Virtually maintenance free
Steel Tread Plate Applications
Decorative flooring and walls
Dock surfaces
Kick plates
Ramps
Stairways
Tool boxes
Trailers
Vehicle running boards
and more
Steel Floor Plate Sizes
Thickness/Gauge
1/8"
3/16"
1/4"
3/8"
14 GA
Width
Length
Metal Supply Made Easy
Get the high-quality metal products you need and keep your project on time and within budget. We make metal buying easy by providing multiple purchasing options.
Will Call pick up
Custom cut to size
Next day local delivery
Rapid turnaround
Volume discount pricing
Open to the public
IMS is Your Local Steel Floor Plate Supplier Serving Southern CA, Arizona & Northern Mexico
Industrial Metal Supply is the Southlands largest supplier of all types of metal and metalworking accessories.