Cold Rolled Steel Sheet and Plate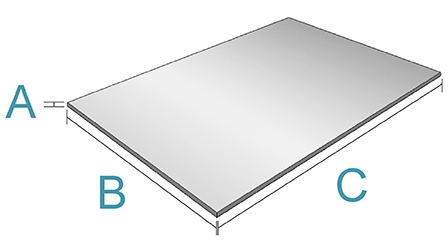 A = Thickness
B = Width
C = Length
Read More about CR Steel Sheet and Plate

Cold Rolled Steel Plate & Sheet
Cold Rolled Steel Sheets and Plate are cold rolled to extremely accurate thicknesses tolerances, which provides a fine, smooth surface creating an excellent base for painting. In addition, cold rolled steel sheet and plate is easy to drill, form and weld.
Cold Rolled Sheet Metal Applications
Cold rolled steel sheet and plate is used in numerous types of industrial applications, including:
Automotive panels
Tool boxes
Drip pans
Hoppers
Fuel tanks
And more
---
Hot Rolled vs Cold Rolled Steel Plate & Sheet
Cold rolled steel sheet is, essentially, hot rolled steel that has been further processed to increase its strength and strength-to-weight ratio. In general, cold rolled steel sheet can hold tighter tolerances than hot rolled when machined or otherwise fabricated, and provides a better overall surface finish.
In cold rolling, steel sheet is cooled at room temperature (after hot rolling), and is then annealed and/or tempers rolled. Although "cold rolled steel" is a specific type of steel, the term is often used to mean all types of carbon steel materials.
Metal Supply Made Easy
Get the high-quality metal products you need and keep your project on time and within budget. We make metal buying easy by providing multiple purchasing options.
Will Call pick up
Custom cut to size
Next day local delivery
Rapid turnaround
Volume discount pricing
Open to the public
Your #1 Source for Cold Rolled Steel Sheet Metal & Plate in California, Arizona & Northern Mexico
Industrial Metal Supply Co. offers cold rolled steel sheet and plate in a broad range of lengths, widths, gauges, alloys, and specifications to meet your material requirements.

We stock steel sheet and plate in 36", 48", and 60" widths and in 96", 120", and 144" lengths. We can also provide custom cut-to-size sheet and plate to fit your exact specifications. Request a quote today, or contact us for more information.