6061 and 6063 Aluminum Rectangular Tube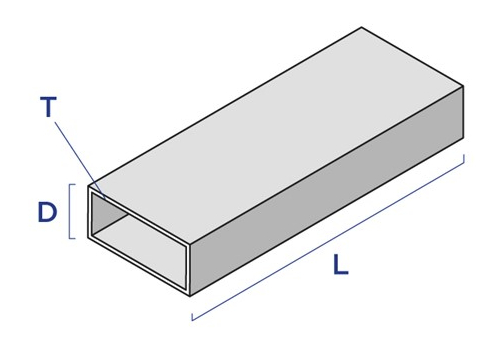 Industrial Metal Supply stocks hundreds of sizes of 6061 and 6063 aluminum rectangular tubing products for all your aluminum tubing needs. Will-call and same-day pick options available for easy ordering.
6061 Aluminum Rectangular Tubing
6061 aluminum rectangular tubing is widely used for fabrication projects where its lightweight properties and corrosion resistance play into its versatility. 6061 rectangular aluminum tubing can be heat treated and provides good weldability and machinability for a wide range of structural applications. Compared to 6063 aluminum, it offers a higher strength ratio than aluminum 6063. Industrial Metal Supply carries a wide selection of 6061 rectangular tubing in a variety of lengths and tempers.
6061 Aluminum Rectangle Tube Applications
Aluminum rectangle tube 6061 is utilized for a wide range of industrial applications, including:
Support columns
Framework
Fencing
Truck beds
Aircraft construction and components
Marine fittings
Automotive components like valves and couplings
And more
6063 Aluminum Rectangular Tubing
6063 AL rectangular tubing is ideal for architectural applications like window frames, railings, and extruded trims. With a lower strength ratio than 6061 aluminum, 6063 aluminum rectangular tubing offers better corrosion resistance and finishing characteristics.
6063 Aluminum Rectangle Tube Applications
Common applications for 6063 rectangular aluminum tube include:
Architectural applications
Handrails and railings
Signage
Roofing and outdoor applications
Order 6061 and 6063 Aluminum Rectangular Tubing in Southern California, Arizona, and Northern Mexico Today
Contact us for more information or request a quote today.