304 Stainless Steel Sheet & Plate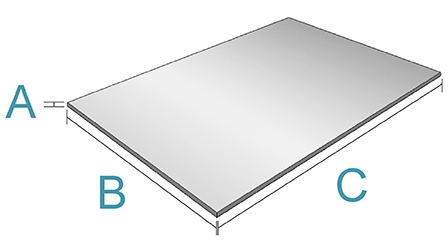 A = Thickness
B - Width
C = Length
For
Textured Stainless Steel sheet
check out our selection in Specialty Metals
Stainless textured sheet
304 Stainless Steel Sheet & Plate
Stainless steel sheet and plate 304 is the ideal choice due to its tensile strength, high resistance to rust, and high fabrication ability. Cost-effective and versatile material, 304 sheet is suitable for most applications where durable support and corrosion resistance are required. Stainless steel sheet and plate also provides excellent weight-bearing properties, high corrosion resistance, superior durability, high strength-to-weight ratio, fair resistance to thermal and electrical conductivity, ease of fabrication, ease of cleaning and more.
304 Stainless Steel Sheet & Plate Applications
Stainless steel sheet and plate 304 is used in numerous types of industrial applications, including:
Food & beverage
Pressure containing applications
Aerospace structures
Cryogenics
Sanitary uses
Architectural structures
Contact Industrial Metal Supply for 304 Stainless Sheet & Plate Today
Industrial Metal Supply stocks hundreds of sizes of stainless steel sheet and plate for your specific project needs.
Contact us
for more information today.