6061 and 6063 Aluminum Round Tube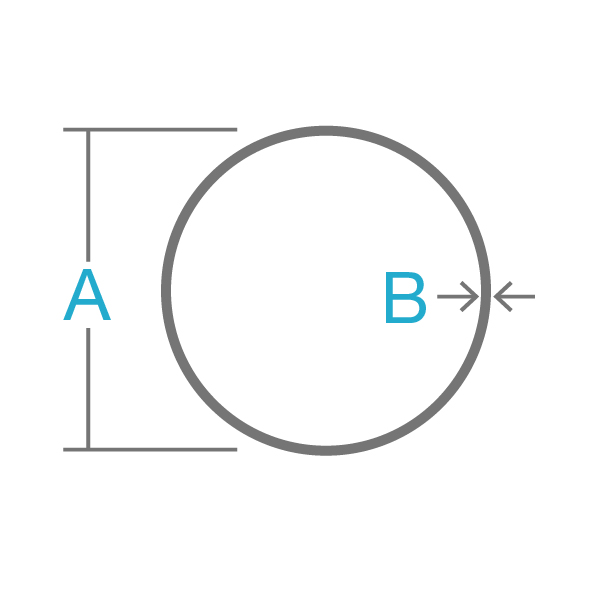 A = Diameter
B = Wall thickness
Industrial Metal Supply stocks hundreds of sizes of 6061 and 6063 aluminum (AL) round tubing products for your specific project needs.
6061 AL Round Tube
Aluminum 6061 round tube is a versatile AL alloy product widely used due to its corrosion resistance and lightweight properties. 6061 AL round tubing is formable, machinable, and weldable and offers a good strength to weight ratio. This aluminum alloy can be heat treated and is commonly anodized for further corrosion prevention.
Industrial Metal Supply stocks a wide selection of 6061 aluminum tubing in a variety of sizes and lengths.
6061 Aluminum Round Tubing Applications
Aluminum round tube 6061 is utilized for a wide range of industrial applications, including:
Protective Structures
Framework
Couplers
Sleeves
Electrical fittings
Marine applications
Hydraulic valves
And more
6063 AL Round Tube
Industrial Metal Supply's 6063-T832 round AL tubing is furnished within the T832 temper process. T832 is a solution, heat-treated temper process that cold works the 6063 AL tubing and then artificially ages the tubing. It has the highest strength compared to the other variants of 6063 aluminum. 6063 AL round tubing is often used for architectural applications where its aesthetically pleasing finishing
6063 Aluminum Round Tubing Applications
Aluminum round tubing 6063-T832 is utilized for numerous industrial applications, including:
Railings
Trim
General construction
Engineering applications
Structural applications
And more
Order 6061 and 6063 Aluminum Round Tube in Southern California, Northern Mexico, and Arizona Today
Request a quote today for same day will-call or next day delivery.