Perforated Steel Sheet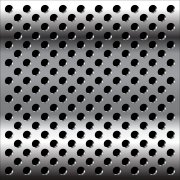 To narrow your search, please filter your specifications by hole size, thickness, width, or length. If you need help determining which perforated steel product is best suited for your project, please
contact us
or stop by one of our
California or Arizona locations
.
Read more about perforated steel sheet

Find the Right Perforated Steel Sheet for Your Project
As a leading metal supplier, IMS stocks a wide selection of perforated steel sheet products. We also offer same day, will call pickup and local next day delivery for all orders.
Steel Perforated Metal Sheet
Ideal for architectural designs as well as more industrial applications such as enclosures, perforated steel sheet is a versatile metal product useful for many commercial and residential purposes.
Offering a strong, versatile way to filter, vent, and enclose, IMS offers high-quality steel perforated sheet in a variety of options for hole sizes as well as design patterns.
Selecting the right hole size or design pattern will depend on your project requirements. Some factors to consider include the open area and hole size of the perforated sheet. The more open area or larger hole size, the easier particles and liquids can pass through. This is especially important to consider for filtration applications.
Perforated Steel Sheet Hole Size Options
Round hole perforated metal sheet

Cost-effective when compared to other hole shapes
Ideal for applications lie HVAC system components or interior design applications

Square hole perforated metal sheet
Slot hole perforated metal sheet (also called rectangle slot)

Commonly used for screens

Hexagonal hole perforated steel sheet
Octagon hole perforated steel sheet
Steel Perforated Sheet Design Patterns
Staggered steel perforated sheet
Square steel perforated sheet
Specialty steel perforated sheet
IMS Steel Perforated Sheet Advantages
Competitive volume pricing
High-quality steel from US Mills
In-stock inventory ready for purchase
Applications that Benefit from Steel Perforated Metal Sheet
Applications for perforated sheet include:
Filtration
Furniture
Shade structures
Store display
Bus enclosures & benches
Electronic enclosures
Lighting
Noise control
Automotive
HVAC
Order Steel Perforated Sheet in California Today
Contact us
or stop by one of our
California or Arizona stores
and get the high-quality steel perforated sheet you need today.